SentryPODS have many capabilities including long-range cameras; high-quality, long-range IR, (infrared) night vision cameras; and thermal or standard 30x PTZ cameras
The primary detection capability of the SentryPODS is video motion detection provided by the SentryPODS camera which is available in varying degrees of capabilities such as long-range, night vision, PTZ, etc. The accuracy and range of these camera options vary but are considered state-of-the-art.
Expands the visual reach of mobile units utilizing real-time surveillance and notifications
Helps alert and protect agents from approaching dangers or threats from any direction
Coverage can be rapidly relocated or left on station unattended acting as a virtual agent, removing the agents from harm's way and exponentially increasing foot power
Well-suited for open terrain deployments (fixed or re-deployable)
Coverage over very large open terrain areas is possible with motion detection to alert monitoring systems of potential activity, as well as utilizing the virtual fence as perimeter detection, notifying agents of a breach of a particular area or zone
SentryPODS' Unique Surveillance Camera Kits Are Changing The Standard Of Security & Protection In The Surveillance Industry
Compared to surveillance drones and wired cameras, a surveillance solution like SentryPODS essentially eliminates the need to physically operate the system, since the design focuses on autonomy. Being the first of its kind in the industry, SentryPODS expands on the limitations of existing technology, making surveillance and investigations much easier. 
Eliminates Dependency of Cables
Act as a Virtual Security Guard with Video Verification & Live Monitoring
Autonomous and Rapidly Deployable
Remotely Accessed for Video and Power Management
Fail Over to Battery Upon Power Loss and Send Notifications
NEMA 4x Rated Enclosure
Take Our SentryPODS For A Spin!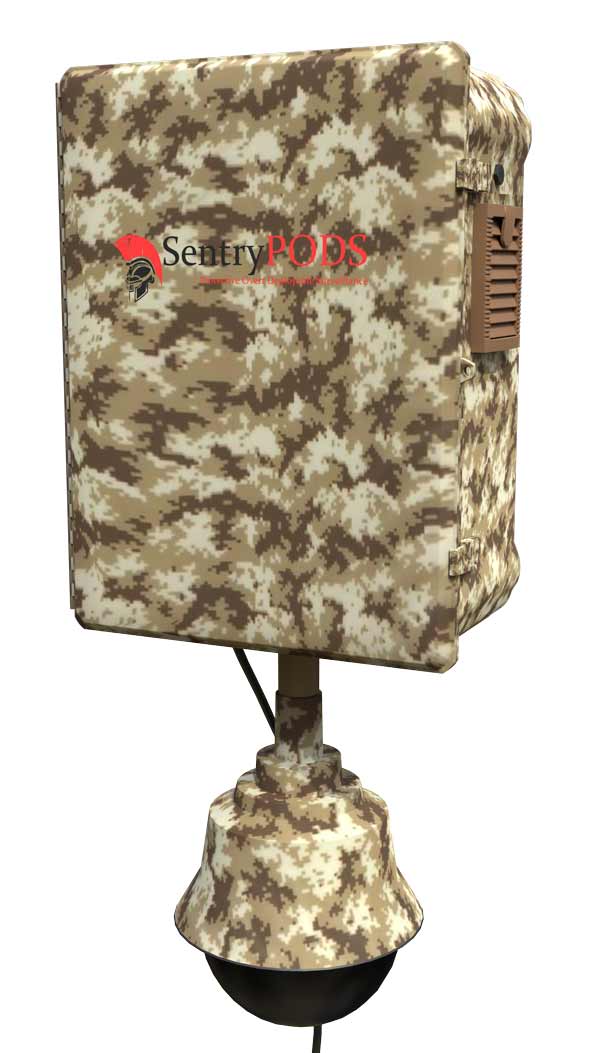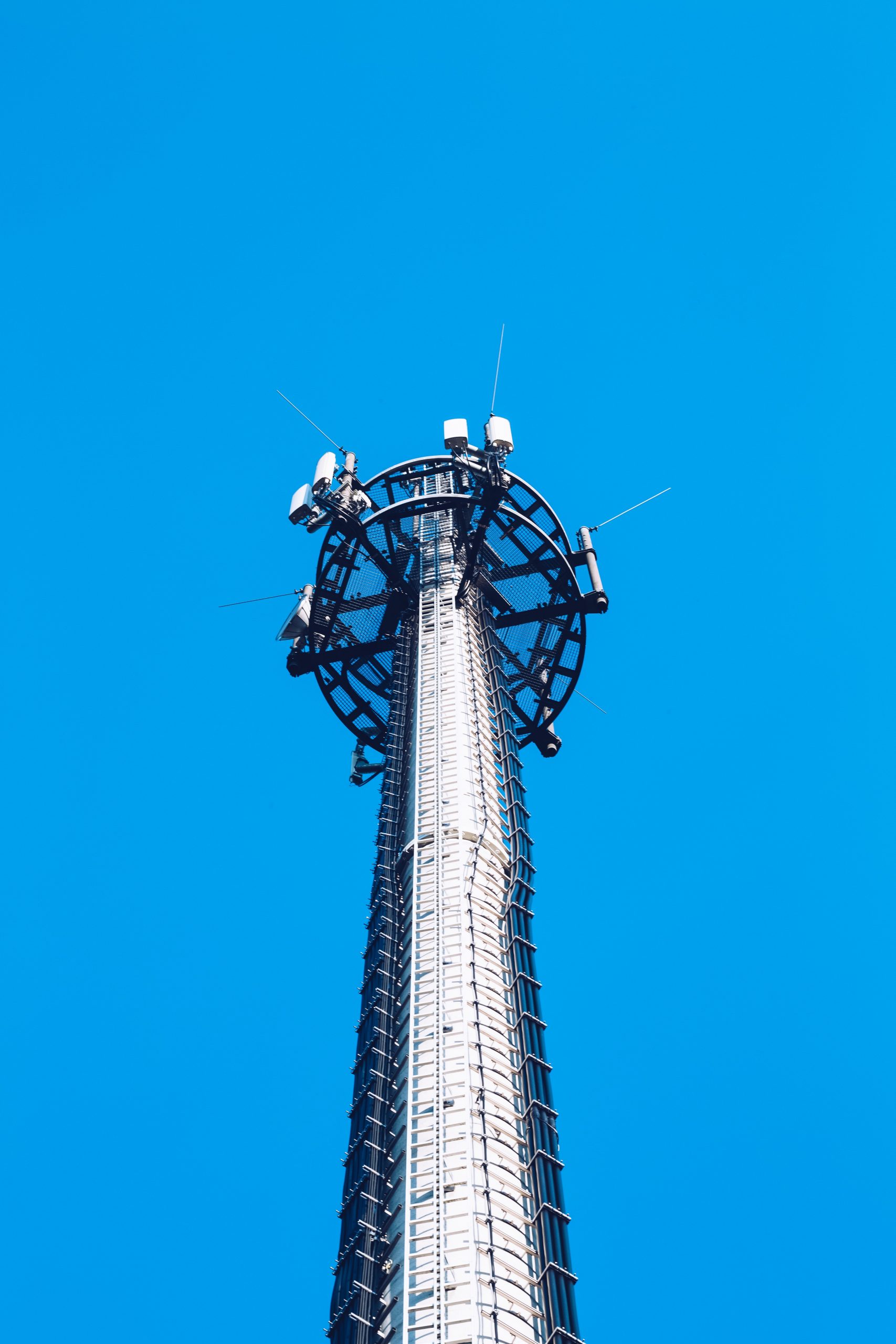 The key features of the SentryPODS system are its speed of mobility, deployment, and autonomy. While a SentryPODS unit can serve as a Video capturing endpoint on an existing traditional LTE or Ethernet network, the ability to deploy rapidly and function autonomously is where the greater value of SentryPODS resides.  A wide variety of power and connectivity options are available and can be tailored to the specific mission requirements, providing a vast array of deployment options.
Network connectivity can occur with the following options:
Cell tower coverage, LTE (default)
Local Wi-Fi; SentryPODS can serve as a Wi-Fi hotspot to provide internet connectivity to local devices such as tablets or laptops utilizing digital security certificates to ensure secure transmission of data
Hard-wire connection (traditional Ethernet LAN/WAN network environment)
SATCOM service provider
Point-to-point wireless connection (Cambium Network radios, for example, long-distance wireless connection)
Power can be sourced from the following:
Existing AC 110V power (grid or generator)
Internal batteries (24-48-hours on short term deployments and are hot-swappable as needed)
Solar power (SentryPODS standalone unit available or can be connected to existing arrays)
A typical SentryPODS deployment will occur where there is no existing conventional network, but cell connectivity is available. Quite often, cellular connectivity is more cost-effective than building out a remote network. In this scenario, each SentryPODS unit will have DHS-encrypted secure connectivity using digital security certificates for end-to-end secure connections through the web via multiple cell carrier options with redundant LTE failover between carriers.
Can be deployed along remote sections of the border wall using cell coverage and solar power
While speed and mobility is key, SentryPODS are most recognized for independent and rapid deployment in austere or autonomous environments without the conventional resources of network connectivity or power
RAS (Rapid Installation System) for expedient installations, either vehicle-mounted, flat or cylindrical surfaces or portable tripod mast-mounted solutions
Data can be fed wirelessly/locally (internal wireless LAN) to the vehicle or agent for capture on a local tablet/smart device or sent via a cellular link to the web via a public WAN connection
Many other scenarios can be addressed through a combination of the available features and options of SentryPODS, with emphasis on the fact that the key features can be managed remotely combined with the added ability of real-time management and remote notifications
SentryPODS is equipped with a hot-swappable IP68 NEMA power enclosure that provides real-time monitoring for power status as well as remote notifications for power failover or environment changes and temperature or state of input or output terminals.
Wall-mounted units can utilize top-mounted cameras to keep the unit and solar panel behind the protection of the wall
SentryPODS are currently deployed across the country in a wide array of institutions, installations, and industries. The possible security applications are unlimited.
Our Autonomous Surveillance Solutions Are Trusted By Companies Like Yours
World Class Surveillance
For Any Environment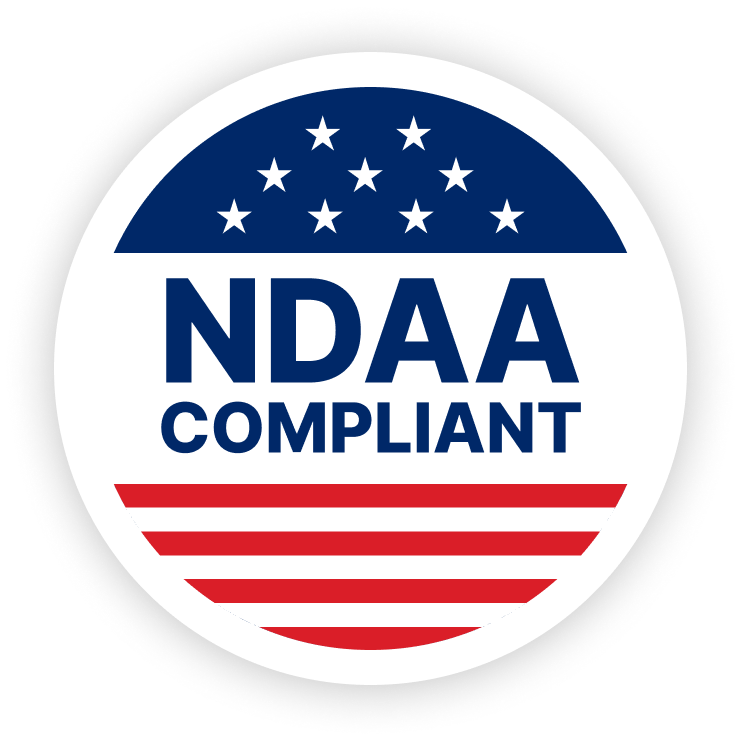 NDAA Compliant
SentryPODS is NDAA Compliant