Secure, Maintain, Assess, & Assist with SentryPODS
Autonomously secure Crime Scene Perimeters, deploy first responders, assess ongoing disaster areas, monitor impound lots, from anywhere.
Public safety and the ability of our Local, State, and Federal Authorities to autonomously secure, monitor, assess, and deploy assets go hand-in-hand. SentryPODS enables the rapid deployment of the technology needed to secure crime scenes and disaster areas, and monitor any area at risk of theft, vandalism, violence, or interference. 
While a SentryPODS unit can serve as a video-capturing endpoint on an existing traditional LTE or Ethernet network, the ability to deploy rapidly and function autonomously is where the greater value of SentryPODS resides.  A wide variety of power and connectivity options are available and can be tailored to the specific mission requirements providing a vast array of deployment options. SentryPODS remote perimeter security ensures public safety for local, state, and federal authorities. Our remote perimeter security is a top choice for quick deployment by using a rapid attachment system and the ability to receive network connections from anywhere. The ability to connect securely from anywhere with cell tower coverage, local wifi, hard-wire connection, SATCOM service provider, and point-to-point wireless connection. SentryPODS remote perimeter security offers optimal surveillance for securing crime scenes, disaster areas, and more.
In terms of energy production, public safety relies heavily on energy production. For example, if a substation is attacked it make be too late before the authorities are called. To get ahead of criminal activity, we have developed a live monitoring surveillance system that deters attacks with overt measures, records acts of terrorism with edge recording, and has 24/7 live monitoring that will validate threats before contacting the police, fire, or other necessary authorities. 
Secure & Monitor Public Areas With Remote Perimeter Security
AUTONOMOUSLY SECURE CRIME SCENE PERIMETERS, DEPLOY FIRST RESPONDERS, ASSESS ONGOING DISASTER AREAS, MONITOR IMPOUND LOTS, FROM ANYWHERE.
Network connectivity can occur with the following options for remote perimeter security:
Cell tower coverage, LTE (default)
Local Wi-Fi; SentryPODS® can serve as a Wi-Fi hotspot to provide internet connectivity to local devices such as tablets or laptops utilizing digital security certificates to ensure secure transmission of data
Hard-wire connection (traditional Ethernet LAN/WAN network environment)
SATCOM service provider
Point-to-point wireless connection (Cambium Network radios, for example, long distance wireless connection)
Power can be sourced from the following for remote perimeter security:
Existing AC 110V power (grid or generator)
Internal batteries (24-48-hours on short term deployments and are hot-swappable as needed)
Solar power (SentryPODS® standalone unit available or can be connected to existing arrays)
A typical SentryPODS deployment will occur where there is no existing conventional network, but cell connectivity is available. Quite often, cellular connectivity is more cost-effective than building out a remote network. In this scenario, each SentryPODS unit will have DHS-encrypted secure connectivity using digital security certificates for end-to-end secure connections through the web via multiple cell carrier options with redundant LTE failover between carriers. SentryPODS proves to provide highly effective outdoor perimeter security services equipped with traditional LTE or Ethernet networks and rapid deployment that functions anywhere. Our outdoor perimeter security connects in remote areas with cell tower coverage, local wifi, and hard-wire connections. The ability to connect in remote areas aids in protecting our property, people, and equipment. Our systems can help detect early warnings to be proactive in preventing any damages and losses. SentryPODS outdoor perimeter security systems is a satisfactory security system that provides optimal protection and surveillance for public safety and for first responders. Outdoor perimeter security has the ability to secure crime scenes, assess disasters in areas, and has the ability to deploy first responders from anywhere. SentrPODS outdoor perimeter security provides video and rapid deployment with a wide array of power connection options to secure your perimeter, maintain and assess the threats, and assist with our nation's public safety.
SentryPODS perimeter surveillance cameras provide impeccable security for public safety and first responders needing to secure areas quickly and efficiently with our perimeter surveillance cameras. Securing and protecting people and equipment with a wide variety of power connectivity options for constant surveillance and rapid installation in remote, hard-to-reach areas detects and deters potential threats. Our high-quality perimeter surveillance cameras play a key part in keeping the public protected and safe at all times. SentryPODS remote perimeter security provides surveillance that is backed by human intelligence and is able to connect from anywhere. Remote perimeter security can prevent disasters and has the ability to rapidly function autonomously. Our experts in security and surveillance provide remote perimeter security for fire scenes as well as investigations and securing crime scenes that are under investigation. Some other instances where our remote perimeter security is used are in emergency response cases, impound lots, and are used for disaster site monitoring.
Applications:
Fire Scenes/Investigations
Crime Scene Perimeters
Emergency Response
Impound Lots
Disaster Site Monitoring
Many more...
Receive Notifications After Our Team Verifies Incidents
Remote Surveillance: Backed By Human Intelligence
SentryPODS (Remote Surveillance Camera Systems) has partnered with US-Based video surveillance monitoring companies to deliver 24/7 live monitoring of motion, invasion, smoke, flare, or flame. With live monitoring, we include the human intelligence/recognition that AI is not yet capable of handling. Each security monitoring technician knows to look for threats and will immediately call the proper authorities if an incident is validated.
Why Choose SentryPODS for Perimeter Surveillance Cameras?
SentryPODS is a veteran-led security company with a highly trained team of experts that have more than 10 years of experience providing quality perimeter surveillance cameras. Our team members provide the best protection with perimeter surveillance cameras that connect from anywhere. Wireless and preconfigured perimeter surveillance cameras can be placed where utility poles are and within an astonishing 3-5 minutes. Not only do we provide high-quality perimeter surveillance cameras, but our perimeter surveillance is backed by human intelligence by US-based ESS giving 24/7 live monitoring making them the best perimeter security cameras for the job. SentryPODS remote perimeter security assists in detecting, locating, and classifying threats in real-time. Our priority is protecting the public's safety is critical to our local state and federal authorities. Many other remote perimeter security has limitations that leave areas vulnerable to damage and theft. SentryPODS has overcome these limitations with our effective remote perimeter security. SentryPODS perimeter security cameras provide unmatched security monitoring that is backed by human intelligence for public safety and first responders. What makes our perimeter security cameras such a top choice for perimeter security is the ability to be deployed rapidly as well as function autonomously. The SentryPODS unit can quickly and securely connect from anywhere, even where there is no existing conventional network making them the best perimeter security cameras.
With SentryPODS perimeter security cameras surveillance solutions we can help improve and enable access to important information with efficiency. We know that public safety depends on energy production, to help prevent disasters to substations and more, SentryPODS implements a live monitoring surveillance system with our perimeter security cameras that will help deter any harmful attacks. SentryPODS wants to reduce costs, improve safety, and increase efficiency to ensure security. We provide the best perimeter security cameras that are designed to monitor and secure a designated perimeter, building, or facility from unauthorized access. The best perimeter security goes beyond gates and fencing, it consists of security cameras backed by human intelligence. SentryPODS perimeter surveillance camera systems monitor remote areas for public safety with rapid deployment and the ability to assist emergency personnel in securing areas quickly and orderly. Our camera systems for remote areas offer efficient perimeter security from emergency response cases to effective monitoring of disaster sites.
Remote perimeter security offers technology that provides quality security for large and expensive remote areas. These remote locations can make it difficult to provide optimal remote perimeter security to monitor public safety. SentryPODS provides the best perimeter security cameras for public safety and first responders. Our perimeter surveillance security cameras offer effective monitoring, and assessment, and secure the area. With our rapid deployment, SentryPODS perimeter surveillance security cameras are a first choice. Ideal applications for perimeter security:
Fire scenes/investigations
Crime Scene
Emergency Response
Impound Lots
Disaster site monitoring and more
SentryPODS perimeter security camera systems enable you to monitor your perimeter with video-capturing cameras that give you the ability to detect unauthorized personnel, trespassers, and criminal activity. Our perimeter security cameras can obtain power sources from AC 110V power, internal batteries, as well as solar power with a standalone unit that is available. SentryPODS offers the best perimeter security cameras for public safety. With the best perimeter security cameras, organizations, and outdoor events are able to improve their security, reduce risk, and respond quickly. For high-quality perimeter surveillance cameras to protect and monitor public safety, contact SentryPODS and our team of security experts today. 
SentryPODS Trusted Remote Perimeter Security
SentryPODS public safety camera systems offer many benefits to public safety and monitoring. Some of the benefits include deterring criminal acts before they happen with SentryPODS perimeter surveillance cameras. Public safety cameras provide early detection of criminal activity, allowing you to respond quickly as well as prevent any further occurrences. Implementing a layered approach to security by combining multiple security measures is more effective than depending on a single method. Great perimeter security and perimeter surveillance cameras have key elements such as:
Physical Barriers act as the first line of defense.
Intrusion Detection Systems that detect any attempt to breach the perimeter.
Video Surveillance
Access Control
Security Response Plan
Perimeter Monitoring and Maintenance
Ask Us How To Use Your SentryPODS Surveillance Cameras As Mobile Hotspots
"We have seen no other products that meet the needs of remote and isolated areas like [the SentryPODS product] without supporting infrastructure aside from a cell connection."
— Chris Proudfoot, Deputy AC/S for MAGTF Training
Watch How SentryPODS Can Be Installed Anywhere In 3-5 Minutes
SentryPODS have been uniquely designed to rapidly install within 3-5 minutes using a
Rapid Attachment System
(RAS). Whether you are in a place where utility poles exist or need to erect a mast to hold your surveillance camera, our rapid attachment system will hold your camera in place until you are ready to move it.
Our Autonomous Surveillance Solutions Are Trusted By Companies Like Yours
World Class Surveillance
For Any Environment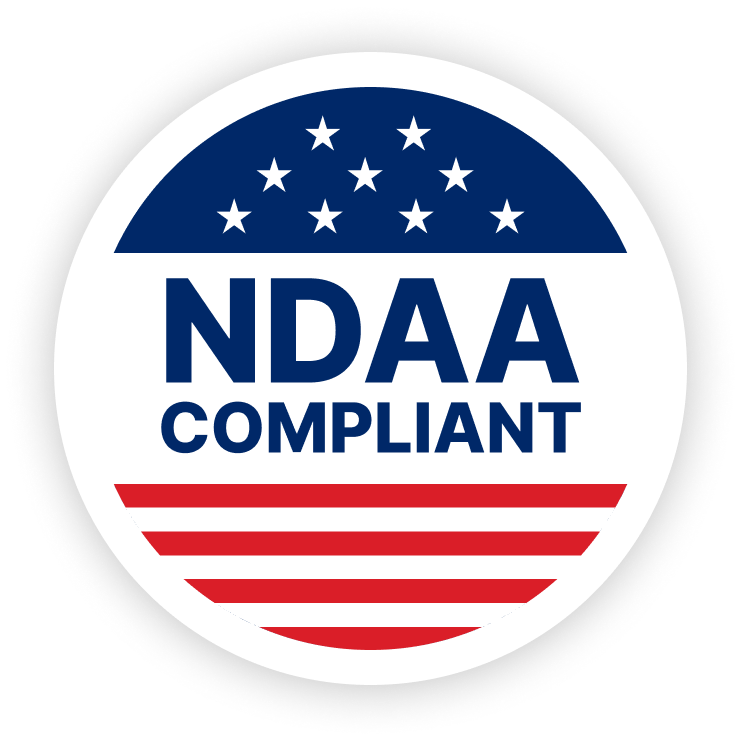 NDAA Compliant
SentryPODS is NDAA Compliant