Complete Construction Site Surveillance Capabilities: From Incident-To-Prosecution
Put Intelligence Behind Your Jobsite Surveillance System
Remote Jobsite Cameras That Include 24/7 Monitoring And That Authenticates Threats, Intrusion, Fire In Real-Time
Jobsite security cameras are easy to find. There are a lot of options. The deciding factor comes down to whether or not you want to be the person monitoring every incident or if you'd prefer the surveillance cameras were monitored by a trained professional. In either case, SentryPODS has you covered.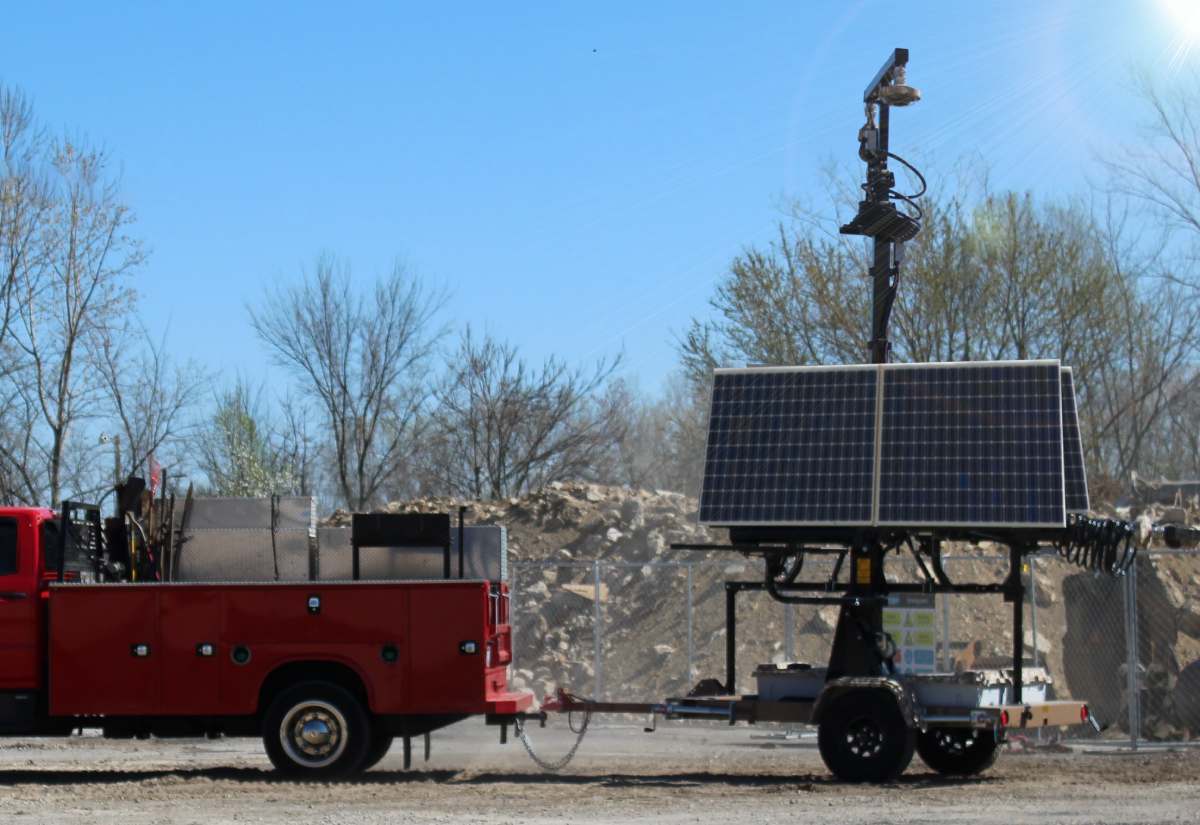 Whether your jobsite is remote and surveillance requires mobile surveillance trailers or your security guards require records of incidents to legally pursue a theft or vandalism case, SentryPODS is ready to stand guard. With 24/7, live video directly available at any time, your jobsite will be equipped with advanced cameras capable of detecting motion, invasion, smoke, flare, and fire. For the fastest solution possible, each incident detection camera routes suspicious activity to a central monitoring station; where trained personnel validate whether or not a true issue has occurred. In the unfortunate event that a real threat is happening, the central monitoring station will dial the appropriate authorities and send your team a message.
Automate Threat Detection & Response
Our surveillance systems include the option of routing detected threats to a central monitoring system — who will call the appropriate authorities on your behalf once the threat has been validated.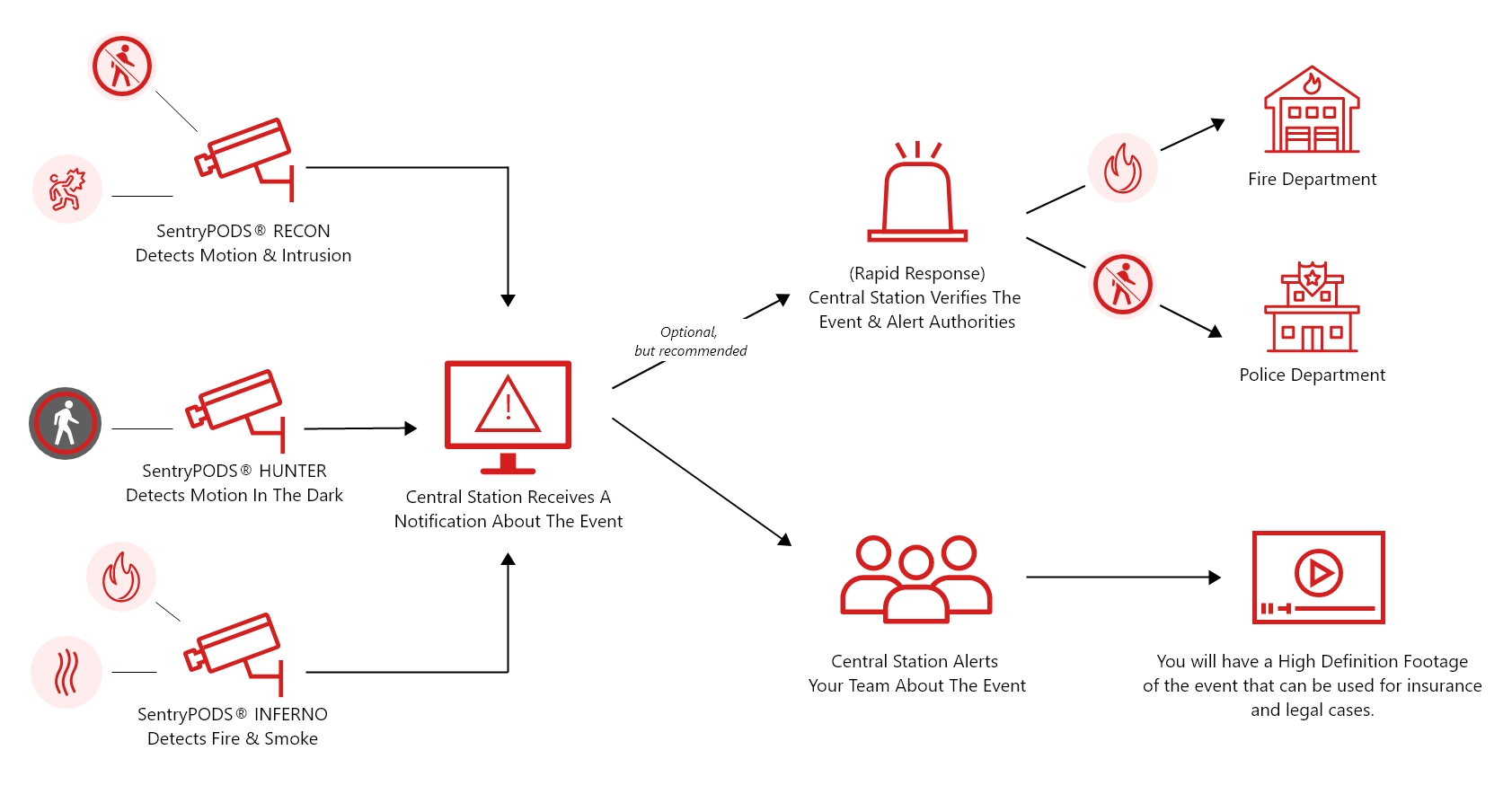 Our remote construction site security cameras detect intrusion, motion, flame, or fires (day or night), then a trained security monitoring service decides whether authorities should be called. In the event of an incident, you and your team will be notified from a safe distance.
Can These Recordings Be Made Available For Positive Identification Of Criminals?
Yes. SentryPODS surveillance cameras are high definition. Meaning, the record of the incident is stored securely and the hd video can be used to identify criminals, read license plates, and can do so from remote surveillance locations because of their hot-swappable batteries.
What Is The Range Of A SentryPODS Jobsite Security Camera?
Each camera is calibrated for unique situations. For example, our most popular infrared camera, The SentryPODS "HUNTER," can capture footage from up to 1300 feet in total darkness. For you, this means an increased sense of security. For your legal team, this means irrefutable evidence. Our construction site security cameras capture and detect events while a live monitoring team intelligently takes action.
How Quickly Can SentryPODS' Construction Site Surveillance Systems Set Up On A Remote Jobsite?
We are known for speed and mobility. In fact, all of our SentryPODS surveillance cameras include a Rapid Install Kit (RIK) that allow cameras to be mounted and securely streaming live video of your jobsite within 3-5 minutes. For remote surveillance locations, our solar trailers can be positioned and assembled in under 10 minutes.
Ask Us How To Use Your SentryPODS Surveillance Cameras As Mobile Hotspots
Protect Facilities, Monitor Activity, & Deter Interference & Theft With Our Jobsite Surveillance & Remote Construction Surveillance Cameras
Rapidly and autonomously deploy SentryPODS to secure, assess, deter threats with real time video monitoring for high definition job site surveillance.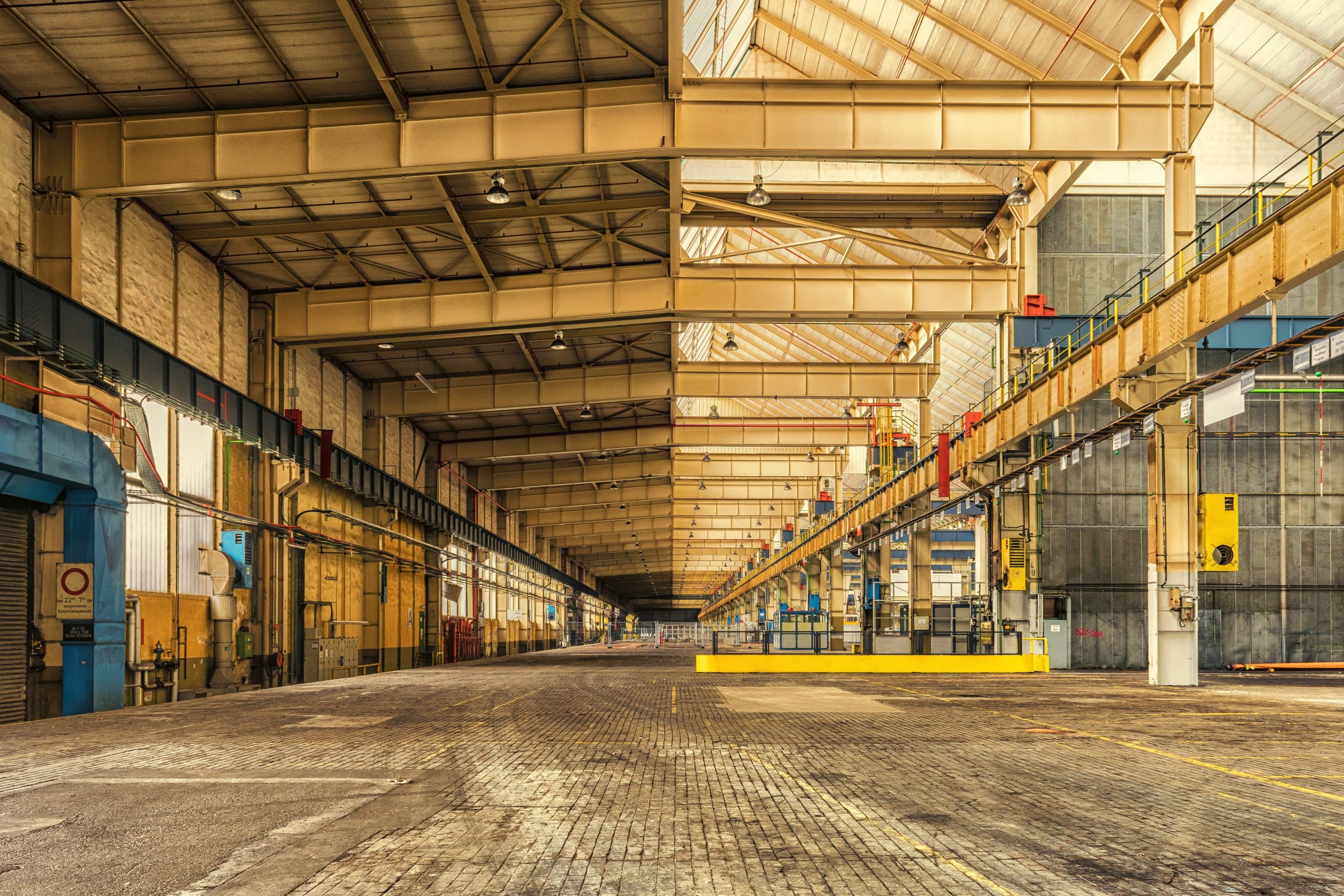 Construction surveillance cameras that work in remote areas and sites without power
Oftentimes, fences can be bypassed with little to no effort; leaving job sites and remote construction sites vulnerable to theft and vandalism. SentryPODS surveillance systems help to ensure the early detection of intruders, giving you time to deploy deterrence devices or dispatch security forces in response to the threat.
While a SentryPODS unit can serve as a video capturing endpoint on an existing traditional LTE or Ethernet network, the ability to deploy rapidly and function autonomously is where the greater value of SentryPODS resides.  A wide variety of power and connectivity options are available and can be tailored to the specific mission requirements providing a vast array of deployment options.
Our live streaming cameras keep the need for a security guard team to a minimum while offering real-time or time-lapse security solutions.
Our Jobsite Surveillance Cameras Are Ready To Protect In Real Time — Even In Places Cables Cannot Reach
Commercial C

onstruction Site Security Cameras

Deter Theft From Heavy Equipment Lots
Oil & Gas Facility Protection
Bridge/Road Construction
Construction Material Depots
Remote Jobsites That Require Mobile Surveillance
Remote Surveillance Areas That Require Solar Powered Surveillance Systems
Increase Safety For Your Security Guard Team
Better Construction Site Surveillance
24/7 Job Site Surveillance and Monitoring
Many more...
"I recommend the Smart Digital SentryPOD for all your security needs. It has proven to be an effective, reliable means to a secure work environment."
William Hocevar, Safety Director – The Great Lakes Construction Company
A Previous Job Site Security Camera Client

Receive Notifications After Our Team Verifies Incidents
Remote Surveillance: Backed By Human Intelligence
SentryPODS (Remote Surveillance Camera Systems) has partnered with US-Based video surveillance monitoring companies to deliver 24/7 live monitoring of motion, invasion, smoke, flare, or flame. With live monitoring, we include the human intelligence/recognition that AI is not yet capable of handling. Each security monitoring technician knows to look for threats and will immediately call the proper authorities if an incident is validated.
HD Video Surveillance Systems With Cellular, STACOM, WiFi, & Hardwired Connectability
Quickly Connect To Your Jobsite Security Camera from Anywhere With Cellular Connectivity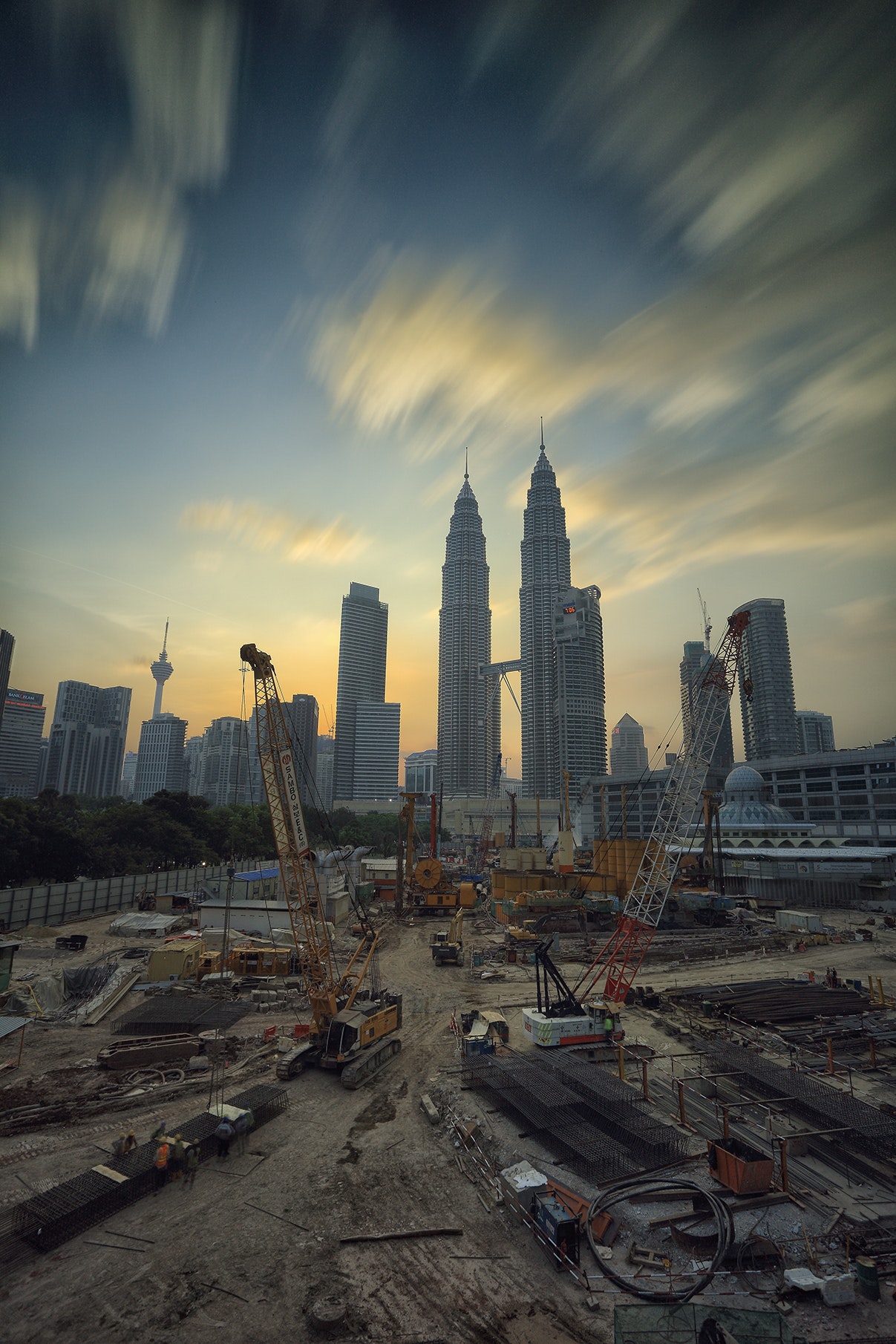 Network connectivity can occur with the following options:
Cell tower coverage, LTE (default)
Local Wi-Fi; SentryPODS can serve as a Wi-Fi hotspot to provide internet connectivity to local devices such as tablets or laptops utilizing digital security certificates to ensure secure transmission of data
Hard-wire connection (traditional Ethernet LAN/WAN network environment)
SATCOM service provider
Point-to-point wireless connection (Cambium Network radios, for example, long-distance wireless connection)
Power can be sourced from the following:
Existing AC 110V power (grid or generator)
Internal batteries (24-48-hours on short term deployments and are hot-swappable as needed)
Solar power (SentryPODS® standalone unit available or can be connected to existing arrays)
A typical SentryPODS deployment will occur where there is no existing conventional network, but cell connectivity is available. Quite often, cellular connectivity is more cost-effective for remote construction site security cameras than building out a remote network. In this scenario, each of our construction camera systems (SentryPODS units) will have DHS-encrypted secure connectivity using digital security certificates for end-to-end secure connections through the web via multiple cell carrier options with redundant LTE failover between carriers.
Watch How SentryPODS Can Be Installed Anywhere In 3-5 Minutes
SentryPODS have been uniquely designed to rapidly install within 3-5 minutes using a
Rapid Attachment System
(RAS). Whether you are in a place where utility poles exist or need to erect a mast to hold your surveillance camera, our rapid attachment system will hold your camera in place until you are ready to move it.
Place Your Construction Site Surveillance Cameras Where Wires Won't Reach
Lease A Solar Trailer For Remote Jobsite Surveillance
Protect Your Construction Site Remotely With The SentryPODS Chariot - Solar Trailer That Holds 2 SentryPODS
The SentryPODS Chariot is our new and innovative way to set up your SentryPODS construction security cameras in locations you have never been able to before. Whether those locations are on your: oil, gas, construction site, or military camps, the Chariot gives you complete visual access in these areas 24/7.
The Chariot features an extendable camera mount for your construction site security cameras. 17" tires giving you access to take your Chariot across rough terrain, solar panels, and more. The capabilities of the SentryPODS® Chariot do not stop there; our jobsite security cameras attach in minutes, are pre-configured, portable, and are monitored by a live team.
This autonomous surveillance solution also includes:
20' extendable mast with the ability to support 2 SentryPODS
3, 180-Watt solar panels 39.5" x 21.5" x 3.1"
Wireless capability, allowing infinite locations for your Chariot
Rechargeable batteries lasting up to 5 days with no sunlight
Autonomous hitch
Exceptional balance/weight distribution allows adjustments to be easily made by hand
Wi-Fi hotspot, giving you access to live footage wherever you may be located
Alerts your smartphone/computer if cameras switch to their internal batteries if they lose primary power connection
Call For Leasing Options (419) 496-0180
Watch How You Can Improve Construction Site Security With This Mobile, Solar Trailer. Set Up In Minutes and Change Locations Quickly.
Serving oil, gas, construction sites/jobsites, or military camps — The Chariot gives you complete visual access in these areas 24/7. The Chariot features an extendable camera mount, 17" tires giving you access to take your Chariot across rough terrain, solar panels, and more.
Call For Leasing Options
(419) 496-0180
Fast Install + Rapid Relocation
Remote Construction Site Surveillance — Where Wires Cannot Reach
Preconfigured Jobsite Security Cameras Allow For Install-to-Access in 3-5 Minutes
SentryPODS' construction site surveillance cameras are the preferred choice for perimeter security for many reasons. These construction site cameras come with optional features including PTZ, IR night vision up to 1400ft, hot-swappable components, and more. They contain intelligence at the edge, as well as built in redundancy for network/power failover.
SentryPODS surveillance cameras are a wise choice for jobsite surveillance, remote perimeter security, manufacturing surveillance, public safety, and a wide range of other applications.
Call For Leasing Options
(419) 496-0180
"We have seen no other products that meet the needs of remote and isolated areas like [the SentryPODS product] without supporting infrastructure aside from a cell connection."
— Chris Proudfoot, Deputy AC/S for MAGTF Training
Our Autonomous Surveillance Solutions Are Trusted By Companies Like Yours
World Class Surveillance
For Any Environment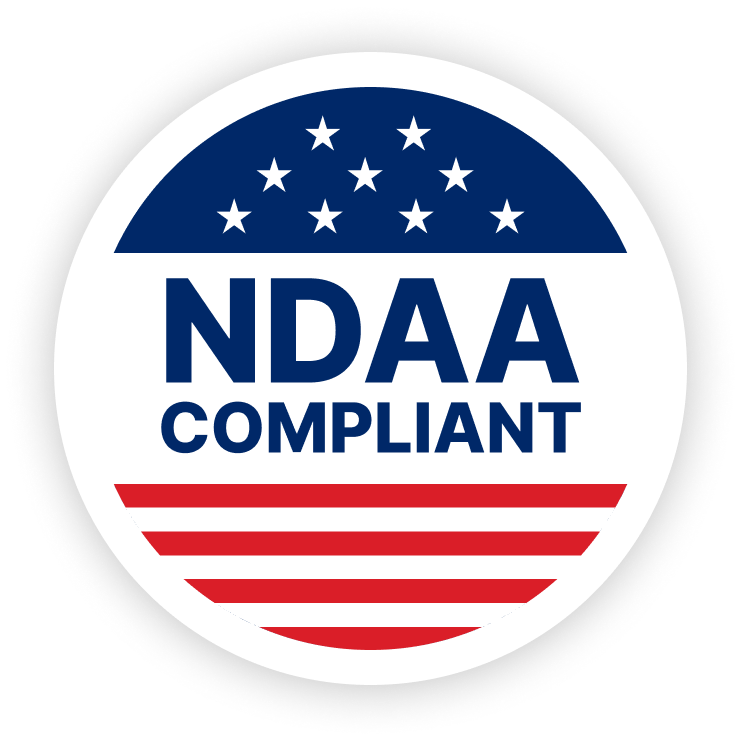 NDAA Compliant
SentryPODS is NDAA Compliant