Connected Surveillance System Across Multiple Miles — With No Network Availability (Military Use)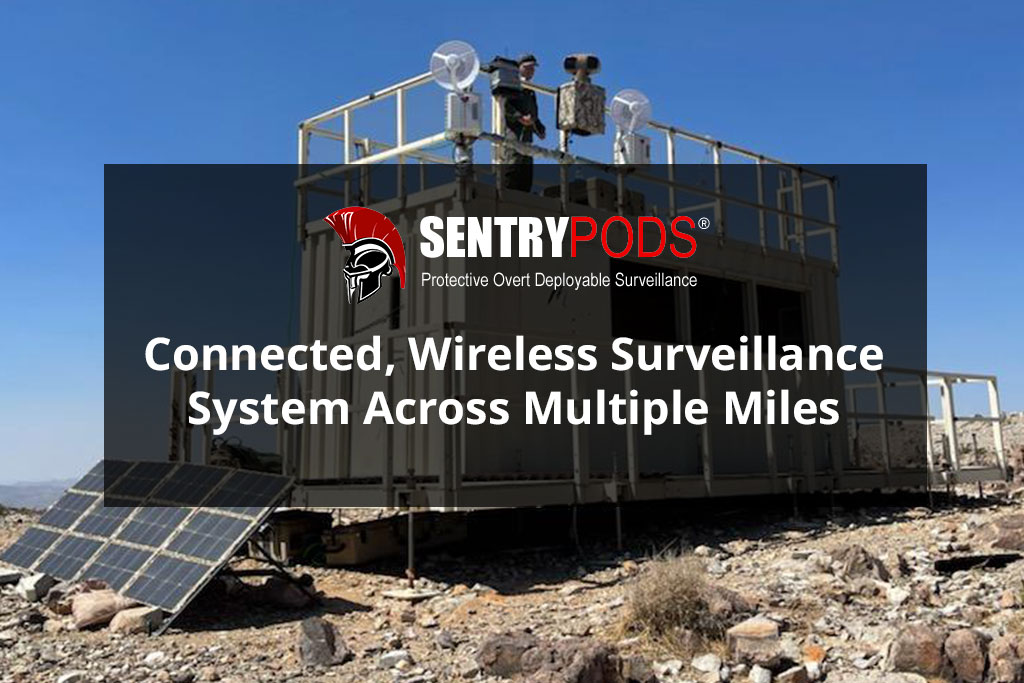 Our Systems Engineer was inserted into Twentynine Palms, Ca. to support the Marines with our SentryPODS surveillance cameras and SentryPODS Mobility Kits. At this location, there are several integral surveillance points that are several miles apart. Our challenge was to offer long-range connectivity where network presence is not possible.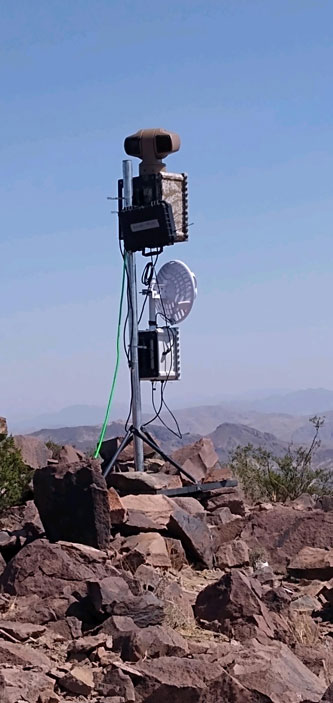 We installed three SentryPODS surveillance cameras and SentryPODS Mobility Kits at each location so that different teams could be viewed from a live monitoring station several miles away. While the position of the cameras and PTP Mobility Kits were elevated and were not accessible on foot, this heightened elevation proved to be the most efficient and reliable method of bridging the line of sight between cameras and connectivity kits; thus enabling a network connection where no network existed previously.
This elevation allowed the user to connect each unit to another SentryPODS Mobility Kit unit at a long distance (average 5-10 miles, line of sight) to provide connectivity for SentryPODS/other network devices.
How Was This Setup Installed?
Our team installed three units consisting of a SentryPODS camera (for surveillance), a SentryPODS Mobility Kit (for PTP network connectivity), and a solar array (for continuous power). Each Mobility Kit was positioned towards the live monitoring base; which, when connected, relayed a separate network signal from the base to each post. The distance between the base and posts ranged from 4.2km to 7.5km.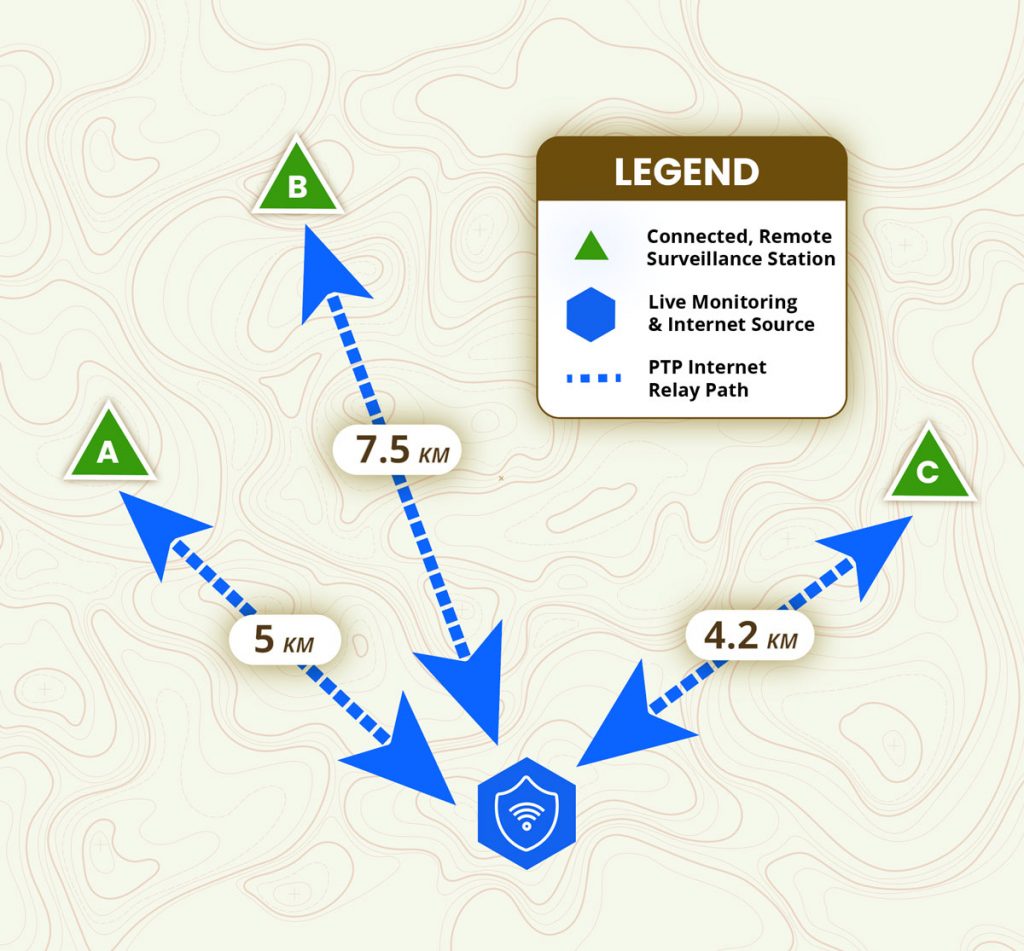 Additionally, we configured and adopted a method for transferring the drone camera feedback to the live monitoring station across the PTP (POINT TO POINT) network.
Was There Noticeable Lag Between The Monitoring Station And Remote Surveillance Cameras?
The system is operational with no noticeable lag.

What Makes The SentryPODS Mobility Kit Useful?
The SentryPODS Mobility Kit has the same design concept as the SentryPODS in regard to mobility, redundancy, and autonomy. Like all SentryPODS systems, we ensure that set-up, run, tear down, and relocation can happen as quickly as possible. The Mobility Kit, a "snap-on" component to SentryPODS' surveillance cameras, allows the user to power each unit and connect it to another Mobility Kit unit at a long distance, (average 5-10 miles, line of sight) to provide connectivity for SentryPODS/other network devices. Once the Mobility Kit antenna connects to another mobility kit that is connected to the internet, the SentryPODS' surveillance camera is connected to the internet through that point-to-point connection.
"We have seen no other products that meet the needs of remote and isolated areas like [the SentryPODS product] without supporting infrastructure aside from a cell connection."
— Chris Proudfoot, Deputy AC/S for MAGTF Training
How Does The SentryPODS Remote Services Program Augment The Power Of Remote Surveillance?
Without the ability to assess surveillance footage in real-time, there is no possible way to immediately respond to issues as they unfold. With the SentryPODS Remote Services Program, a live monitoring solution is put into play. By placing human intelligence at the edge of the SentryPODS, live operators can respond immediately and dispatch local authorities, no matter where the SentryPODS unit is. Every SentryPODS comes pre-configured and is equipped with access to the internet for remote access out of the box. Whether that is via radio communication or, in civilian situations, authorities need to be dispatched; the end result is that operations move efficiently and lives may be saved.
Why This Project Was Successful
Connection over 10 miles (with no network available).
Autonomously powered, parabolic antenna.
Virtual visibility to remote areas without personal presence.
Wireless direct connection to remote surveillance.
Demonstrated the SentryPODS Mobility Kits' capabilities in austere environments.
Simultaneous data transfer across multiple miles.
The design of the SentryPODS mobility kit has access to power where no power is present (solar connectivity).
Ready-made internet/network sources.
Who Would Benefit From Our Long-Range, Autonomous Surveillance Array?
Our product presents heightened surveillance opportunities to anyone who needs connectivity in ruggedized, austere environments — where SATCOM, ISP, (Internet Service Providers) LTE, or other means of providing access to a local area network or the internet are not possible. This includes military/DoD, utility, critical infrastructure, data centers, agriculture, public safety, dignitary defense, border/perimeter surveillance, prison surveillance, freight yards, natural disaster relief, and harbor surveillance.
How To Learn More About The SentryPODs' Mobility Kit
For more information about SentryPODS surveillance capabilities for long-range connectivity, contact us or call (419) 496-0180.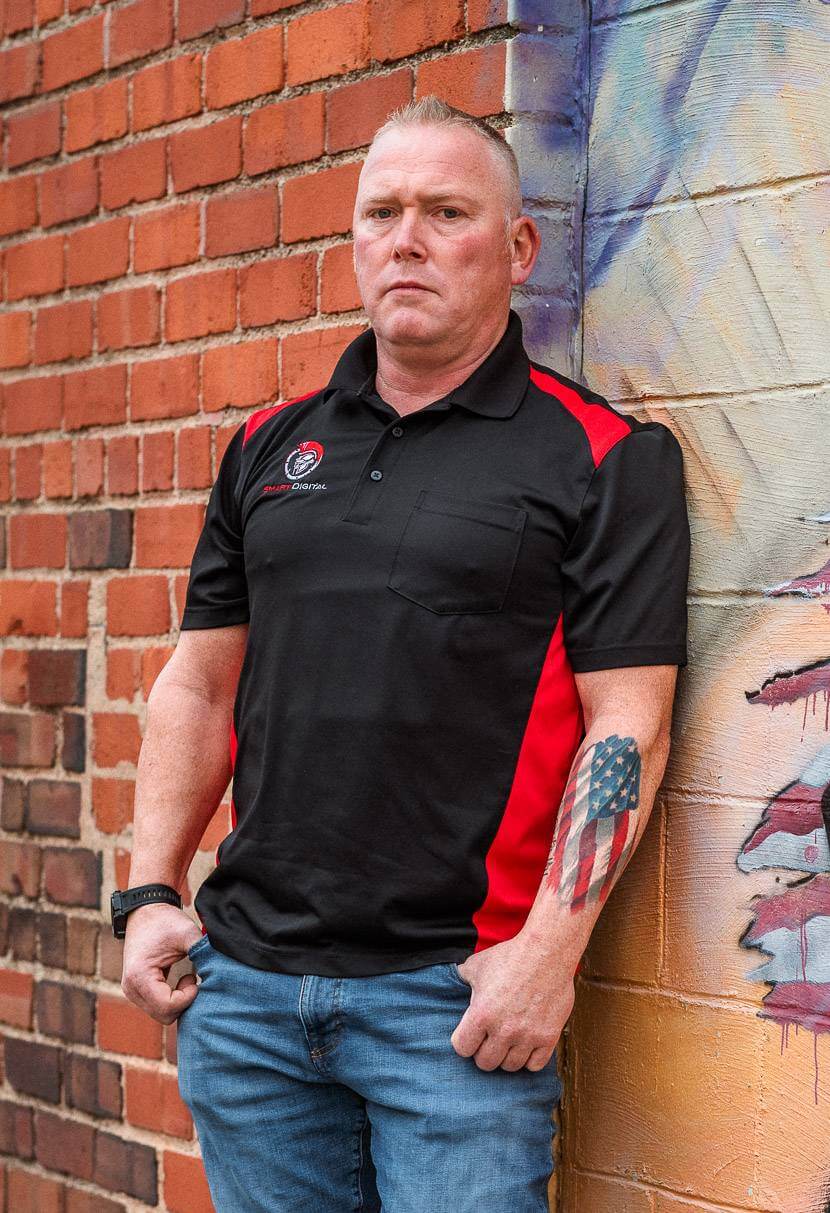 Brent Canfield
CEO and Creator of SentryPODS
Brent Canfield, CEO, and founder of Smart Digital and SentryPODS, founded Smart Digital in 2007 after completing a nine-year active-duty career with the United States Marine Corps. During the 2016 election cycle, he provided executive protection for Dr. Ben Carson. He has also authored articles for Security Info Watch.